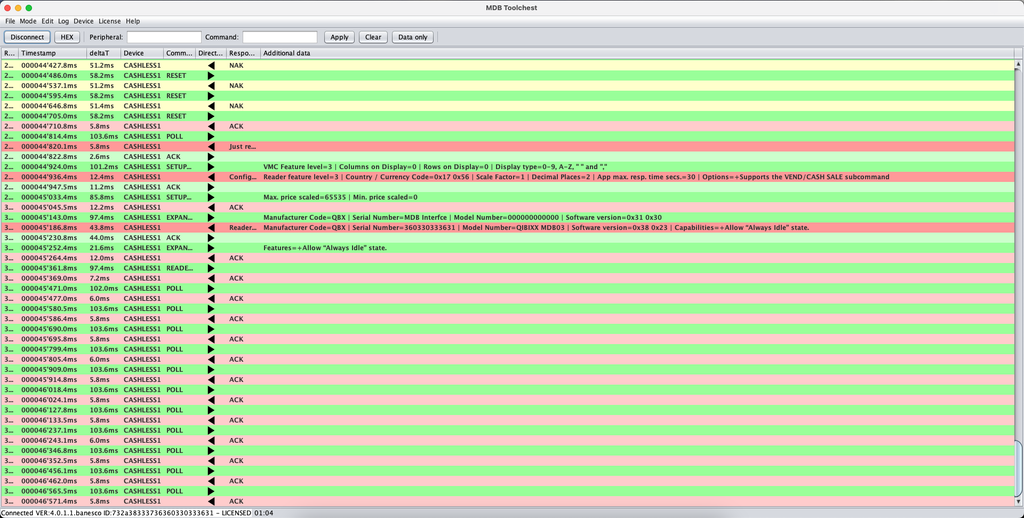 MDB Toolchest License
The MDB Toolchest is a Java-based Software Application which serves as an invaluable tool for diagnosing, simulating and testing MDB Peripherals or VMC's.
The Software can accurately catch and decode MDB Communications when paired with the MDB-USB Interface. Sub-millisecond time stamps allow to understand exactly which block had been sent by whom on the MDB Bus.
Various simulation functions allow the MDB Toolchest to impersonate a VMC or a Peripheral for testing purposes.
Universal MDB Test, Local or Remote Sniffing and Simulation

Written in Java, platform independent

MDB Master and MDB Slave simulation support

Precise, time-stamped sniffing from the MDB Bus

Software can read Bonusdata capture files

Able to update the firmware of the MDB-USB Interface (Standard and Ultra versions supported)

One-time license

License tied to the MDB-USB Interface: the software can be used on a unlimited number of computers for file analysis or capture with the licensed hardware

Works with MacOS, Windows and Linux
Note

Cannot be used with the Unigate